27 Aug

Lara Dutta on the Making of Blue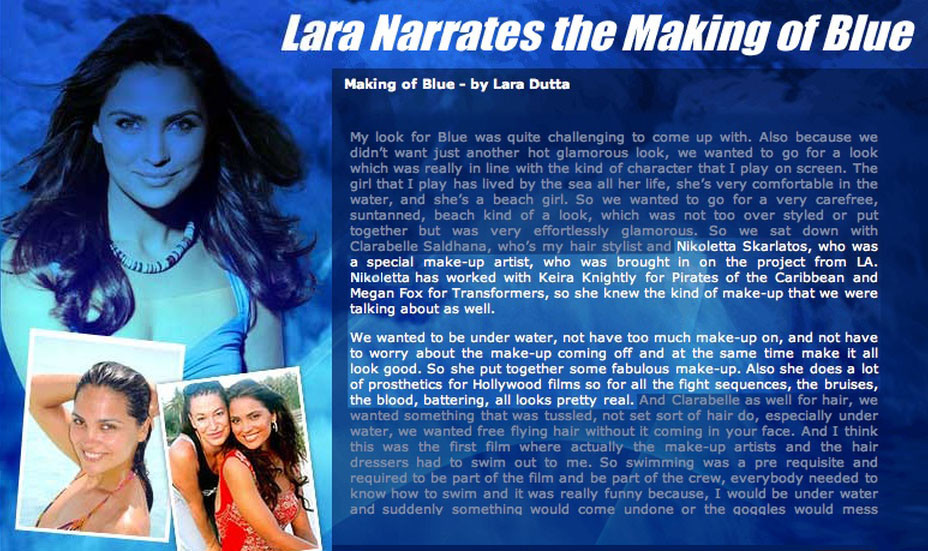 The Making of Blue – by Lara Dutta.
My look for Blue was quite challenging to come up with. Also because we didn't want just another hot glamorous look, we wanted to go for a look which was really in line with the kind of character that I play on screen. The girl that I play has lived by the sea all her life, she's very comfortable in the water, and she's a beach girl. So we wanted to go for a very carefree, suntanned, beach kind of a look, which was not too over styled or put together but was very effortlessly glamorous. So we sat down with Clarabelle Saldhana, who's my hair stylist and Nikolleta Skarlatos, who was a special make-up artist, who was brought in on the project from LA. Nikolleta has worked with Keira Knightly for Pirates of the Caribbean and Megan Fox for Transformers, so she knew the kind of make-up that we were talking about as well.
We wanted to be under water, not have too much make-up on, and not have to worry about the make-up coming off and at the same time make it all look good. So she put together some fabulous make-up. Also she does a lot of prosthetics for Hollywood films so for all the fight sequences, the bruises, the blood, battering, all looks pretty real. And Clarabelle as well for hair, we wanted something that was tussled, not set sort of hair do, especially under water, we wanted free flying hair without it coming in your face. And I think this was the first film where actually the make-up artists and the hair dressers had to swim out to me. So swimming was a pre requisite and required to be part of the film and be part of the crew, everybody needed to know how to swim and it was really funny because, I would be under water and suddenly something would come undone or the goggles would mess your hair up and your hair was in your face and then Clarabelle would have to swim out to be in the middle of the ocean to get my hair back right.
I think it was a first for everyone to work like this. So the look is really good. Rina Dhaka, who has never designed for Hindi movie earlier, came on board as the primary designer for the film.
The whole look is effortlessly stylish, yet very sort of beach resort oriented. The clothes are very simple but a lot of detailing on the clothes, lot of thread work and bead work, just to make the clothes interesting. But I think I came back about four shades darker than I've ever been before by the time I finished with the Bahamas and with Thailand.
For me getting fit for the role was really important. I don't think I've ever looked or felt fitter in my life but that took a lot of training and discipline as well. It took about six days of weight training, cardio vascular training and swimming in the gym but it looks good, it pay off and I am really excited.